Where to Buy Halloween Gift Boxes
As the leaves turn to shades of orange and the air becomes crisp, it is time to embrace the spooky season with open arms. Halloween, a holiday celebrated with costumes, haunted houses, and a sweet tooth for candy, presents a perfect opportunity to share the joy with your loved ones. There is no better way to do that than by gifting them Halloween gift boxes. Spread the spooky spirit of the event with Halloween cookie gift boxes to make your friends and family feel more special. In this article, we will explore some of the ghoulishly delightful Halloween gift box ideas and where to buy Halloween boxes wholesale.
Unforgettable Halloween Gift Boxes
Embracing the spirit of this enchanting holiday, Halloween gift boxes have gained immense popularity. They offer a splendid chance to express your fondness for loved ones or colleagues, infused with a hint of ghostly sophistication. Each gift box can be tailored to match individual preferences, ensuring a considerate and unforgettable gift.
Delightful Halloween Delicacies
Among the many delights Halloween offers, the joy of savoring sweet treats is incomparable. Accumulate a Halloween treasure chest brimming with an array of sugary confections, luxurious chocolates, and other mouthwatering delights. For an added touch of amusement, consider including eerie-themed goodies such as gummy worms and candy eyeballs.
Indulge in the taste of autumn with a delightful assortment of pumpkin spice goodies. This charming gift box features pumpkin-flavored coffee, fragrant pumpkin spice candles, and a cozy Halloween-themed mug. It is an ideal present for those who savor the cozy and inviting atmosphere of the season.
Whether they are far from home or unable to partake in traditional celebrations, this package is sure to bring joy. Fill it with whimsical treats like eerie socks, a themed face mask, and a heartfelt handwritten note to let them know they are cherished.
Halloween Cookie Gift Boxes with Spooky Twist
A Halloween cookie gift box offers a scrumptious choice for those seeking a Halloween-themed gift. Inside these boxes, you will find a variety of freshly baked cookies that are not only visually appealing but also incredibly tasty. The selection includes an array of cookie shapes and flavors such as the classic pumpkin spice, the ethereal vanilla, or the indulgent chocolate. These delightful Halloween cookie gift boxes serve as an ideal way to spread the Halloween spirit with your loved ones or surprise a distant friend with a delectable treat.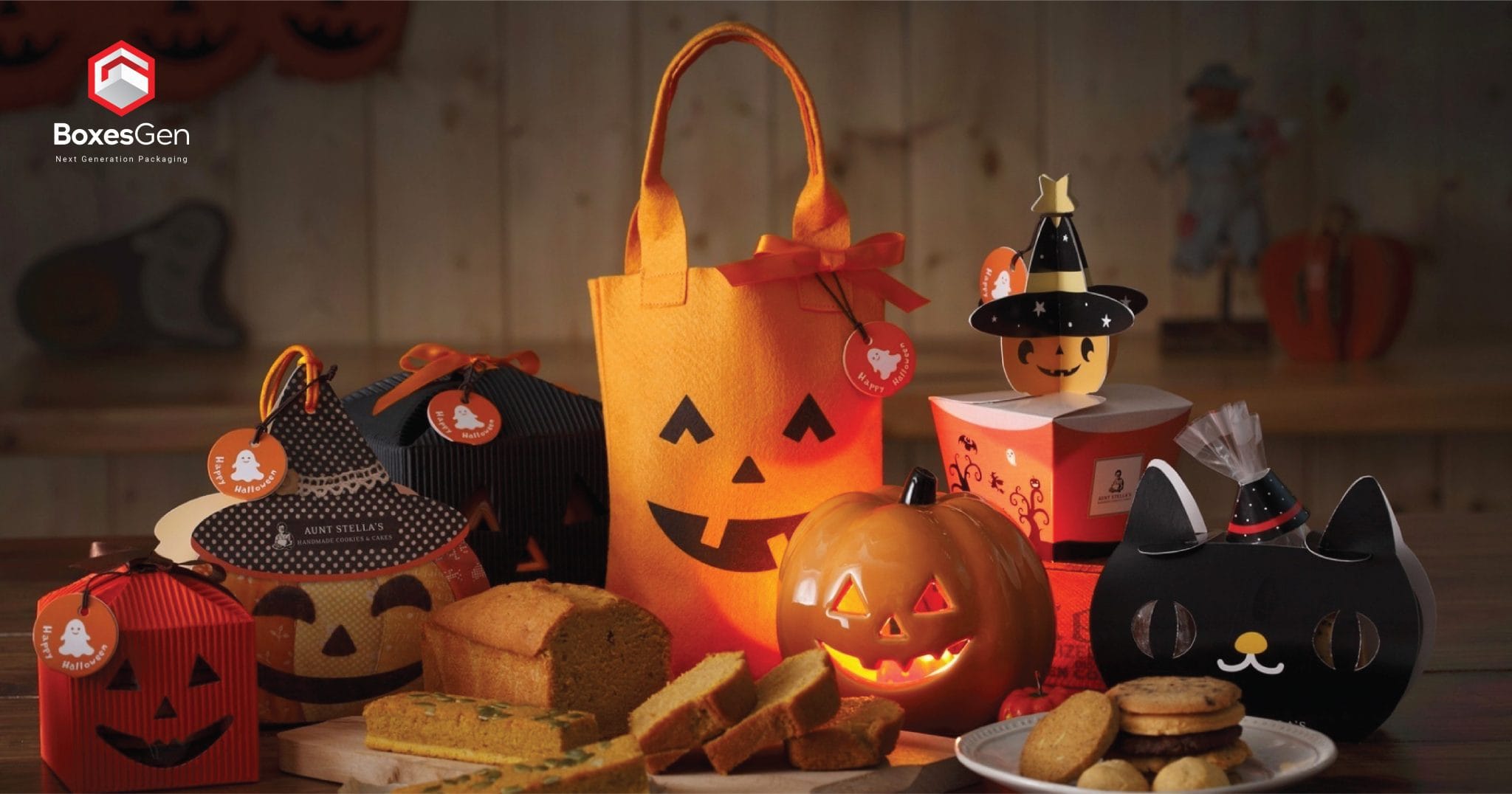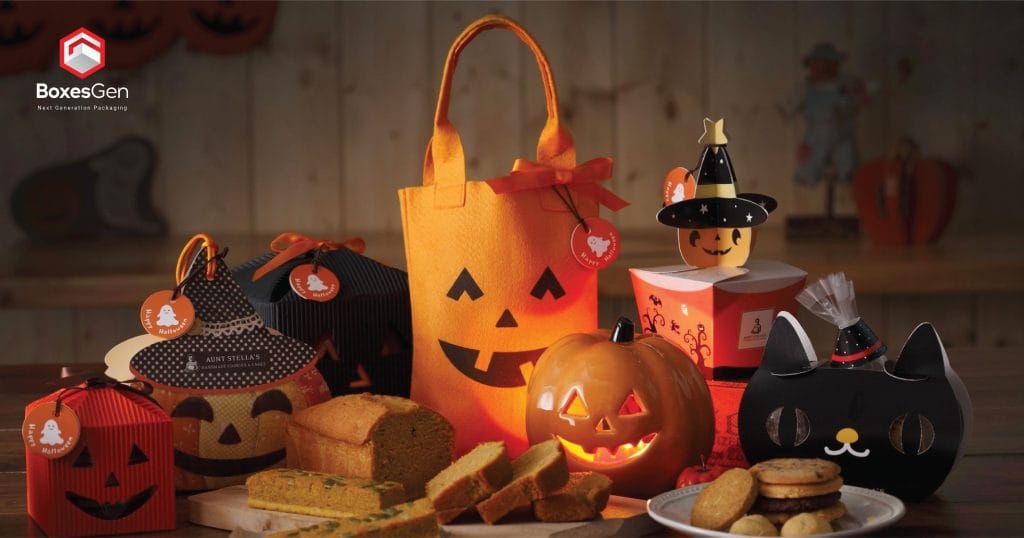 For those who adore baking and want to add a personal touch to their Halloween gift boxes, Halloween cookie gift boxes are an exceptional choice. These boxes are packed with homemade or professionally baked cookies adorned with spooky designs that are sure to bring smiles to the faces of your recipients.
The Allure of Halloween Gift Boxes
With their limitless options, Halloween gift boxes have captured the attention of many for their adaptability. These boxes are perfect for any preference or occasion, whether it is surprising a friend, family member, or coworker. No matter the theme or mood of the season, there is a Halloween gift box to match. From adorable and playful to spine-chilling and enigmatic, the choices are boundless.
Halloween Gift Boxes – A Selection of Favorites
When searching for the perfect Halloween gift boxes, individual preferences, and the recipient's tastes are key factors. You can opt for candy-focused boxes, brimming with gummy spiders, chocolate eyeballs, and various treats. Alternatively, a more whimsical choice may include boxes adorned with Halloween-themed accessories such as miniature witches' hats, glow-in-the-dark trinkets, or even a creatively designed potion kit. The ideal Halloween gift boxes are those that capture the recipient's festive spirit and bring joy to their face.
Halloween Gift Boxes Empty
For those who enjoy the creative process, Halloween gift boxes empty is a great alternative to starting empty. These blank canvases allow you to craft a customized experience for your client. You can customize the box with an awesome design, then fill it with items you know the recipient will adore. The possibilities are endless, from adding their favorite candy to trinkets and toys that reflect their interests.
Gift Boxes with Halloween Themes
As Halloween is known for its diverse themes, it is fitting that Halloween gift boxes will be equally diverse. You will find gift boxes featuring classic motifs like pumpkins, bats and black cats. For those who want something whimsical, the possibilities are endless with Halloween-themed boxes. For those who enjoy the creative process, a Halloween gift box is a great alternative to starting empty. These blank canvases allow you to craft a customized experience for your client. You can customize the box with an awesome design, then fill it with items you know the recipient will adore. The possibilities are endless, from adding their favorite candy to trinkets and toys that reflect their interests.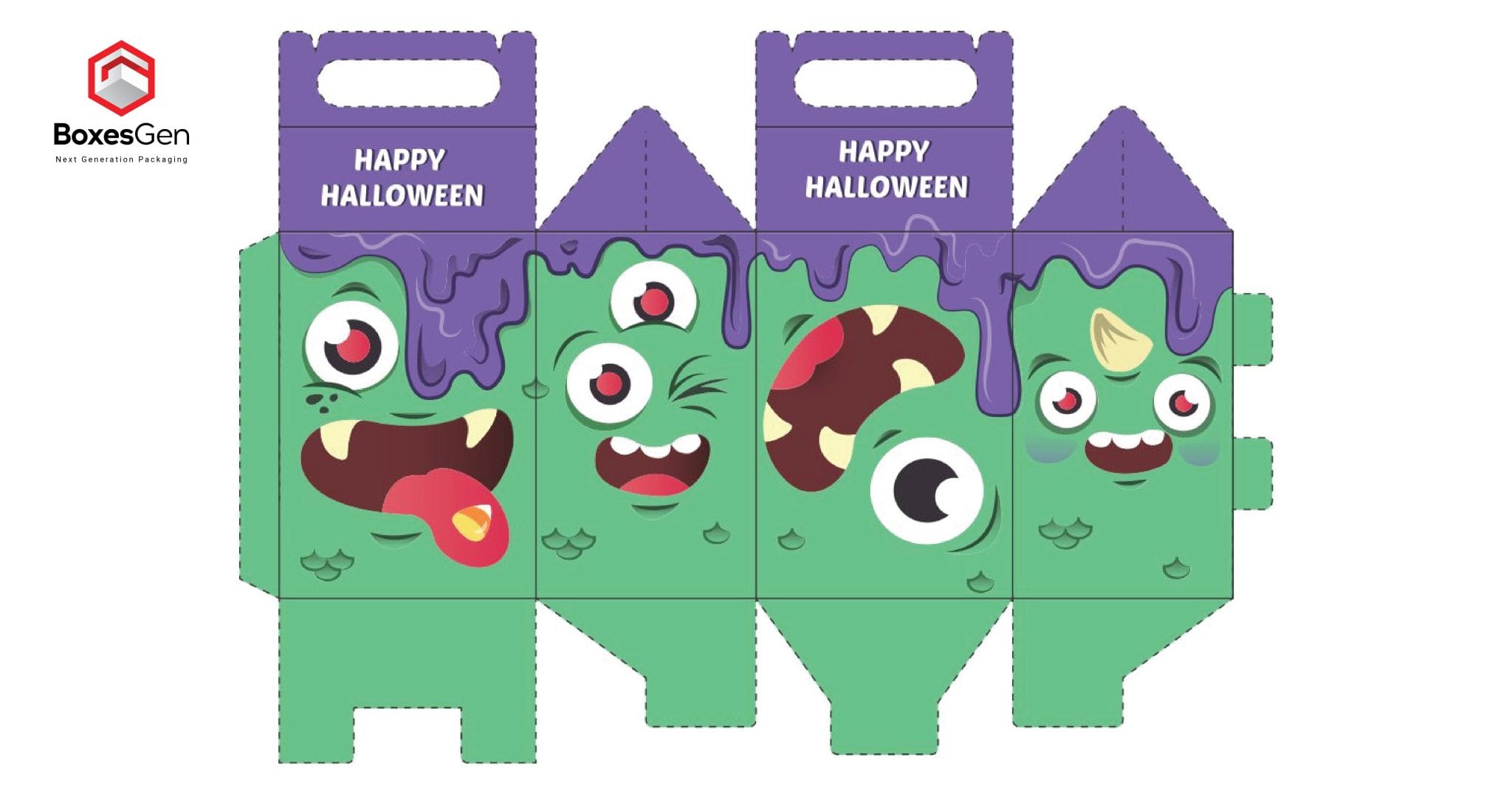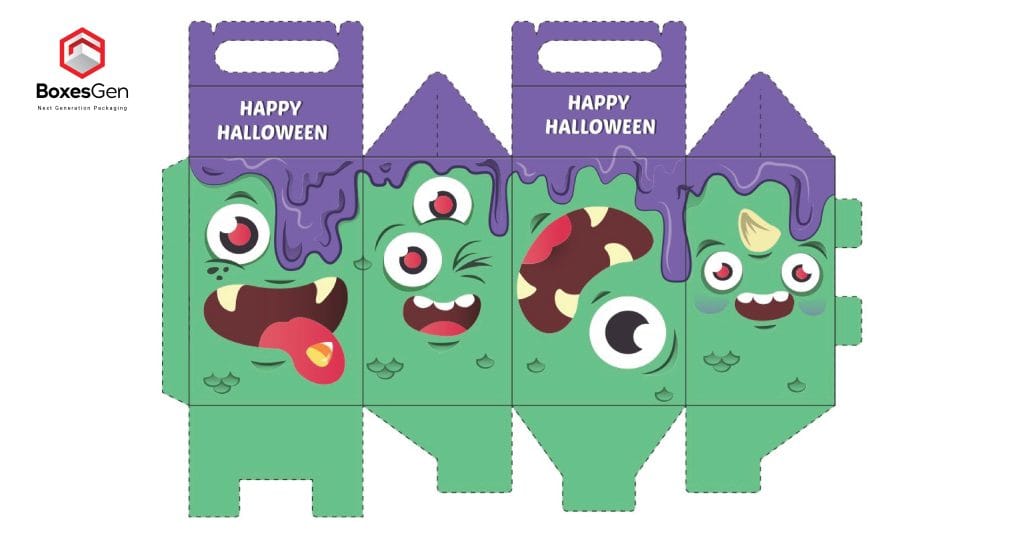 Bulk Delights of Halloween Gift Boxes Wholesale
Planning a Halloween party or want to share the spirit with a group of friends or co-workers? Halloween gift box wholesale options are good options. Buying in bulk allows you to save on costs and ensure you have enough gift boxes to go around. These multipurpose boxes can be filled with a variety of Halloween treats, giving everyone a taste of the season's fun. They are also a great resource for companies looking to send Halloween-themed gifts to their clients and partners.
Unboxing the Magic of Halloween Gift Boxes
While the Halloween gift boxes themselves are fun, it is what is inside that allows for the truly spooky experience. Let's dive deeper into some of the fun things you can think of for your Halloween-themed surprises.
Eerie Edibles: No Halloween gift box is complete without some sinister sweets. Chocolate-covered caramel apples, popcorn balls, and spider web-shaped cotton candy can send chills down the spine while tantalizing the taste buds.
Witchy Wardrobe: Halloween is all about dressing up, so why not include a costume piece in your gift box? A witch's hat, a vampire cape, or a set of skeleton gloves can add a playful twist to the holiday.
Potion Paraphernalia: For an adult-oriented gift box, consider including miniature bottles filled with creepy cocktails, Halloween-themed shot glasses, or even a mixology kit to whip up some spellbinding brews.
Spine-Tingling Stories: A book of ghost stories, a collection of classic horror novels, or a spine-chilling graphic novel can be an ideal companion for a cozy Halloween night in.
Pumpkin Spice Everything: Embrace the seasonal flavor by including pumpkin spice-scented candles, bath bombs, or even a bag of freshly ground pumpkin spice coffee. These items can help create a delightful atmosphere and a soothing experience.
Mini Haunted House: Add a touch of interactive fun with a mini haunted house model. Assemble it together or create a spooky story based on the house's mysteries. It's a gift that provides both entertainment and a creative outlet.
Trick-or-Treat Surprises: Remember the thrill of going door-to-door for candy? Recreate that excitement by including a mini trick-or-treat bag filled with assorted candies and small surprises that your recipient can enjoy.
Spooky Jewelry: Halloween-themed jewelry, such as spider web earrings, skull-shaped necklaces, or even glow-in-the-dark bracelets, can add a stylish yet eerie touch to your gift box.
Home Decor Delights: Decorative items like jack-o'-lanterns, spooky wall hangings, or eerie candle holders can help your recipient transform their home into a haunted mansion for the season.
DIY Craft Kits: Encourage creativity by including a DIY Halloween craft kit. Whether it's a pumpkin carving set, a jewelry-making kit, or a mask-painting set, these gifts can provide hours of entertainment.
Considerations for Boxing Halloween Gifts
When putting together your Halloween gift box, don't forget to consider the interests and ages of your recipient. Whether you aim to scare or thrill, customizing the accessories ensures your gift is a memorable and enjoyable Halloween puzzle. After all, the spirit of Halloween lies not only in tricks and treats but also in the imagination and effort you put into creating a unique and unforgettable experience.
So, whether you are celebrating with friends, family, or co-workers, these ideas for gift boxes for Halloween promise to capture the essence of this mystical holiday. Show your creativity, embrace horror, and send a Halloween gift box that will have your loved ones screaming with delight.
Decorating Your Halloween Gift Box
Making a Halloween gift box is an art in itself, and the display is where the magic happens. A well-decorated gift box adds a new layer of excitement and anticipation to your Halloween surprise. Let's explore some attractive ideas on how to turn your Halloween gift box into a real work of art. Making a Halloween gift box is an art in itself, and the display is where the magic happens. A well-decorated gift box adds a new layer of excitement and anticipation to your Halloween surprise. Let's explore some cute ideas on how to turn your Halloween gift box into a real work of art. Here are some decorating options for Halloween gift boxes;
Themed Wrapping Paper: Start with the outer layer. Select Halloween-themed wrapping paper featuring classic motifs like pumpkins, witches, ghosts, or black cats. This sets the tone for what's inside.
Ribbons and Bows: Play with various ribbons and bows to adorn your gift box. Black satin ribbons, orange grosgrain bows, or even spider web patterned ribbon can add a touch of elegance to the presentation.
Glow-in-the-Dark Accessories: Add an element of surprise by incorporating glow-in-the-dark accessories. Stickers, stars, or even glow-in-the-dark paint can create an enchanting effect when the lights go out.
Thematic Stamps or Seals: Personalize your gift box with thematic stamps or seals featuring Halloween motifs. This extra touch adds a sense of thoughtfulness and exclusivity to the gift.
Layered Tissue Paper: Line the interior of the box with layered tissue paper in complementary Halloween colors. This not only protects the contents but also adds depth and texture to the presentation.
Halloween Tags: Customize your gift with Halloween-themed gift tags. You can write a spooky message or a riddle to build anticipation for the contents inside.
Intriguing Messages: Write mysterious messages on the outside of the box, like "Open if you dare" or "Witch's Brew Inside." This adds an element of fun and intrigue.
Cobwebs and Spiders: Create a more authentic spooky atmosphere by adding fake cobwebs and plastic spiders. These little touches can evoke a haunted house vibe.
Festive Stickers: Halloween stickers featuring bats, ghosts, or witches can be strategically placed on the box for a whimsical and fun touch.
Scented Candles: For an added sensory experience, consider including a scented candle within the box. Scents like pumpkin spice or apple cider can evoke the essence of fall.
Scavenger Hunt Clues: If your gift is part of a larger Halloween surprise, include clues or riddles that lead the recipient to discover other hidden treasures or fun activities.
Halloween Music: Along with your gift, consider including a spooky playlist or a QR code that leads to a Halloween-themed music selection. It can set the ambiance for a Halloween celebration.
The Best Halloween Gift Boxes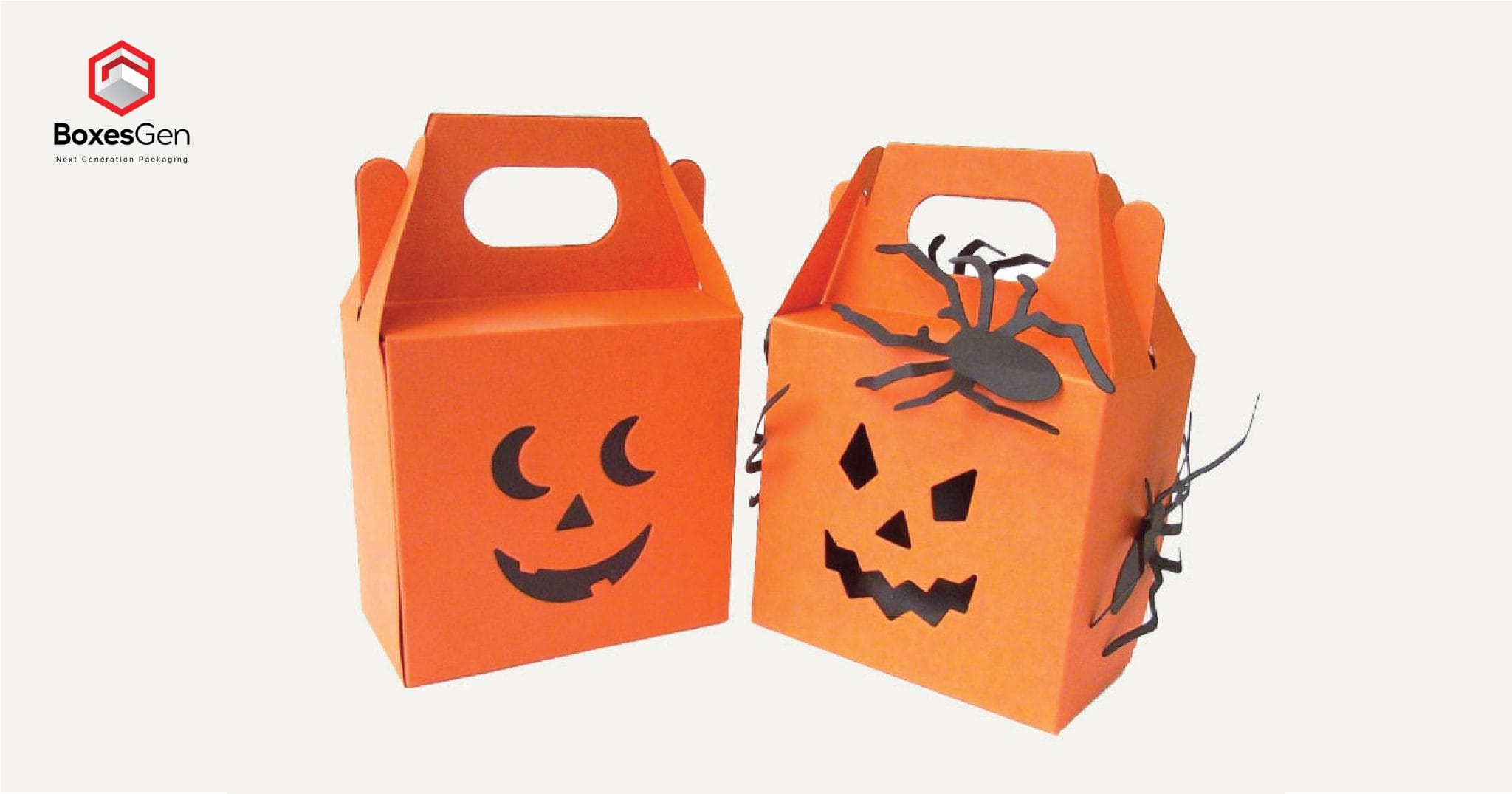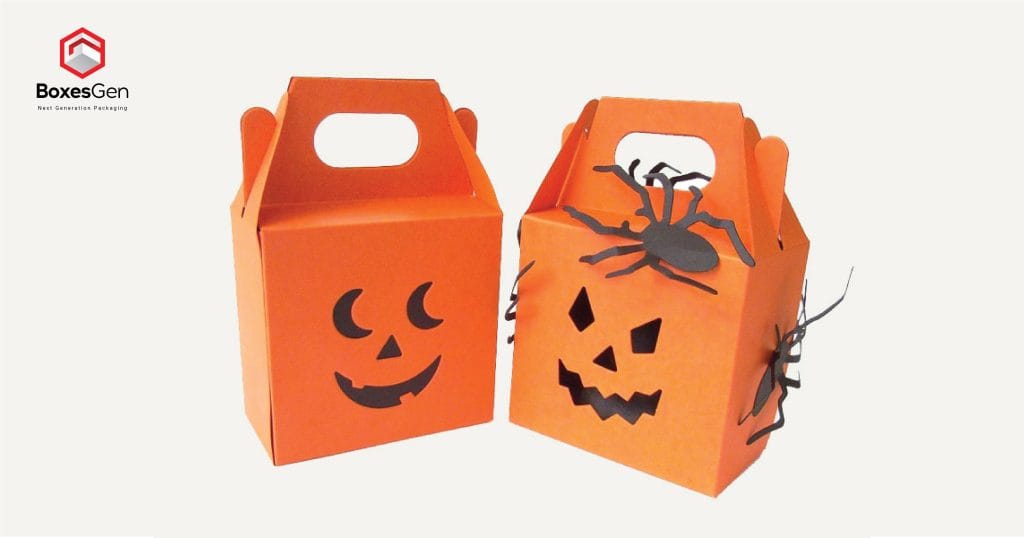 With the plethora of Halloween gift boxes available, choosing the best one can be quite the endeavor. To ensure you present the most exceptional gift, consider the following factors:
Theme and Personalization
The best Halloween gift box is one that resonates with the recipient's interests and personality. Whether it's classic Halloween motifs, spooky scares, or cozy autumn themes, personalization is key.
Quality and Presentation
A great Halloween gift box should be well-constructed, with high-quality items inside. The presentation, including the box's design and packaging, should be impeccable.
Variety of Items
A good gift box offers a variety of items that cater to different preferences. Whether it's a mix of snacks, trinkets, or decorative pieces, the more variety, the better.
Thoughtful Touches
The best gift boxes often include thoughtful touches, such as a handwritten note, a custom message, or a personalized item that makes the gift feel extra special.
Value for Money
The ideal Halloween gift box balances its cost with the value of its contents. It should feel like a thoughtful gift and offer good value for the price.
Where to Buy Halloween Gift Boxes?
If you are in search of the perfect Halloween gift box but lack the time or creative inclination to put one together yourself, there are several options available:
Online Retailers
Numerous online retailers, such as Amazon, Etsy, and independent boutique shops, offer a wide array of Halloween gift boxes to choose from. You can find options that cater to a variety of tastes and budgets.
Specialty Stores
Many specialty gift shops and local stores carry Halloween-themed gift boxes during the season. Visiting these shops can provide a unique and curated selection to choose from.
DIY Approach
If you prefer a personal touch, you can assemble your own Halloween gift box by gathering items that suit the recipient's preferences and packaging them creatively.
Subscription Boxes
Some companies offer subscription boxes with a Halloween theme. These are an excellent choice if you want to send a series of spooky surprises to your loved ones.
Wholesale Suppliers
For those planning larger-scale Halloween events or gifting to a group, consider looking for Halloween gift boxes wholesale. Many suppliers offer bulk options that can be customized to your needs.
Conclusion
Halloween gift boxes are a wonderful way to embrace the spirit of the season and spread cheer to your friends and family. From Halloween gift boxes filled with spooky treats to Halloween cookie gift boxes that mix flavor with art, there is a gift box for everyone. Remember to choose the best Halloween gift box by considering personalization, quality, variety, thoughtful add-ons and value for money. Whether you choose decorations from online retailers or make your own, these gift boxes are sure to make the Halloween season spooky and special for everyone involved. So, get ready to give a magical gift this Halloween!